Buffalo Chicken Wings
By: Keto In an Instant Cookbook By Stacey Crawford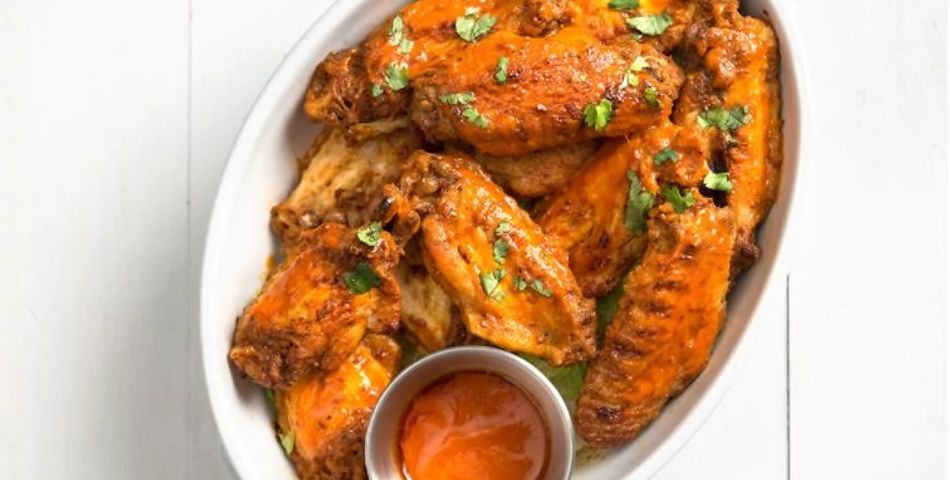 Prep Time: 5 minutes
Cook Time: 7 minutes
Servings: 4 servings
Ingredients
1 teaspoon smoked paprika
1/2 teaspoon garlic powder
1 teaspoon fine grind sea salt
1/2 teaspoon ground black pepper
1/4 teaspoon celery seed
1/8 teaspoon ground cayenne pepper
1 1/2 tablespoons olive oil
12 bone-in skin-on chicken wings
1/4 cup hot pepper sauce
4 tablespoons unsalted butter
2 tablespoons chopped cilantro optional
Directions
In a small bowl, combine the smoked paprika, garlic powder, sea salt, black pepper, celery seed, cayenne pepper, and olive oil. Stir until well combined. Set aside.
In a large bowl, combine the chicken wings and spice mixture. Using tongs, toss the chicken to coat in the spice mixture.
Place the steam rack in the inner pot and add 2/3 cup cold water to the bottom of the pot. Stack the seasoned wings on the rack.
Cover, lock the lid, and flip the steam release handle to the sealing position. Select Pressure Cook or Manual on High pressure and set the cook time for 7 minutes.
While the chicken is cooking, preheat the oven broiler to 550°F and line a large baking sheet with aluminum foil. Spray the foil with nonstick coconut oil spray. Set aside.
Combine the hot pepper sauce and butter in a small saucepan and place over medium heat. Cook, stirring continuously, until the butter has melted and the ingredients are combined. Cover, reduce the heat to low, and simmer for 3 minutes, and then remove from the pan from the heat. Set aside
When the cook time for the chicken is complete, quick release the pressure. Open the lid and use tongs to transfer the wings to a large bowl. Pour half the buffalo sauce over the wings and use tongs to coat the wings in the buffalo sauce.
Arrange the wings on the foil-lined baking sheet. Place the baking sheet on a rack positioned just above the center of the oven, vent the oven door, and broil for 6 minutes, flipping the wings halfway through the cooking time.
Stir the remaining buffalo sauce. Using a pastry brush, brush the sauce over the wings and then transfer the wings to a serving platter. Sprinkle the cilantro over top (if using). Serve warm.
Recipe Notes
Tip For some extra heat, add an additional 1/8 tsp to 1/4 tsp of ground cayenne pepper.