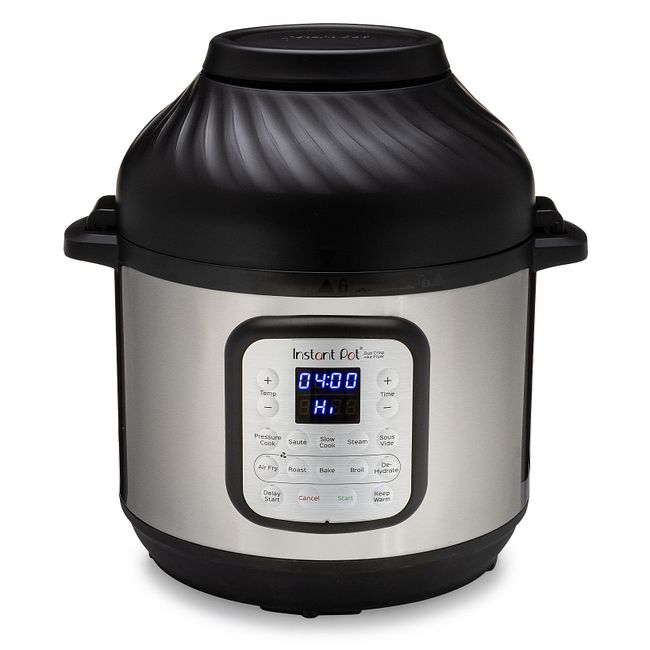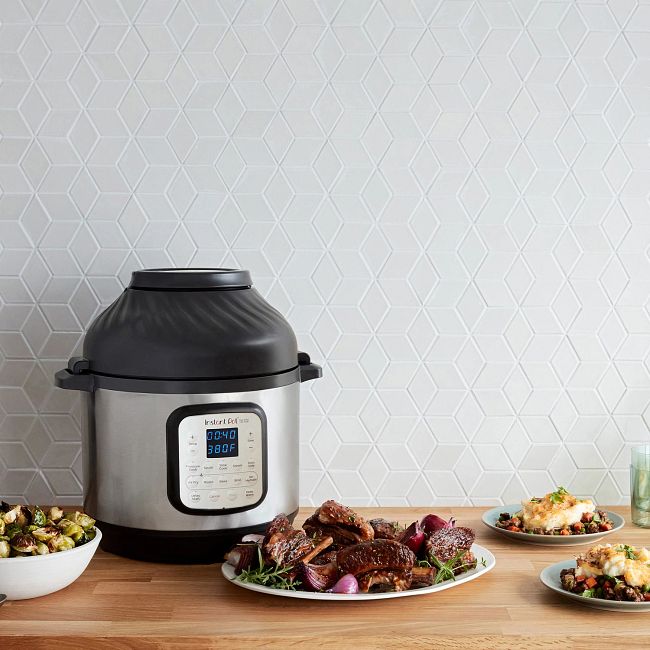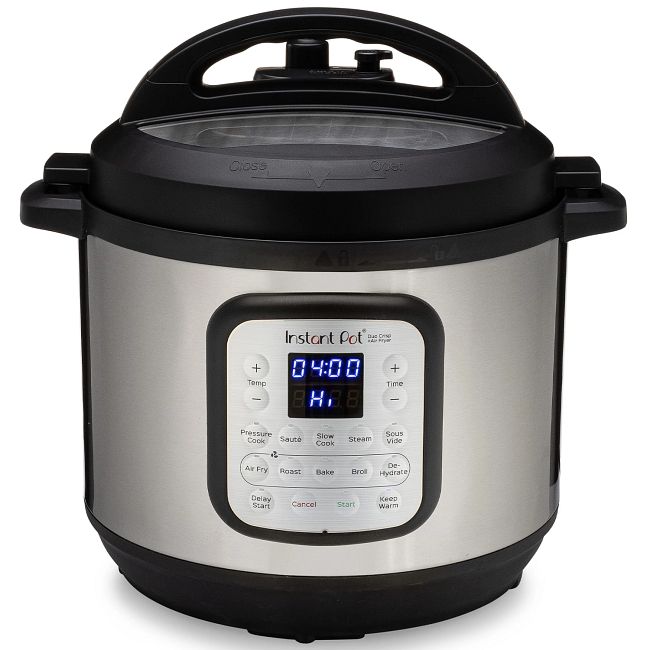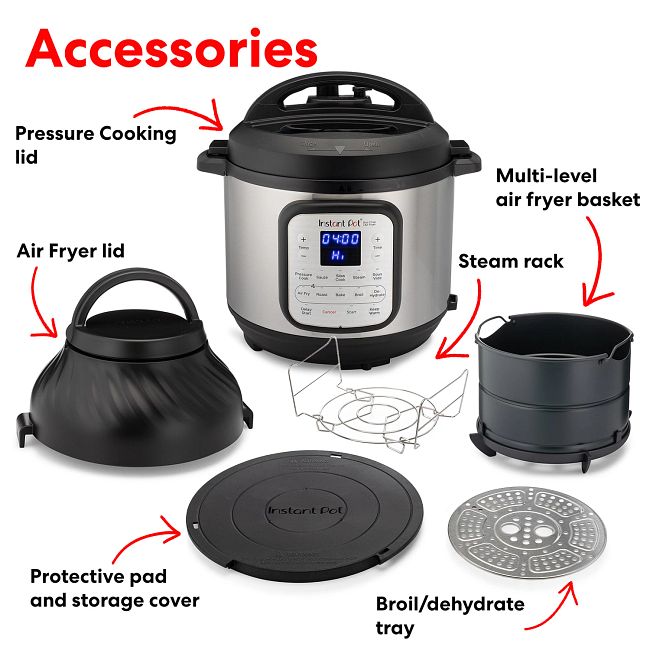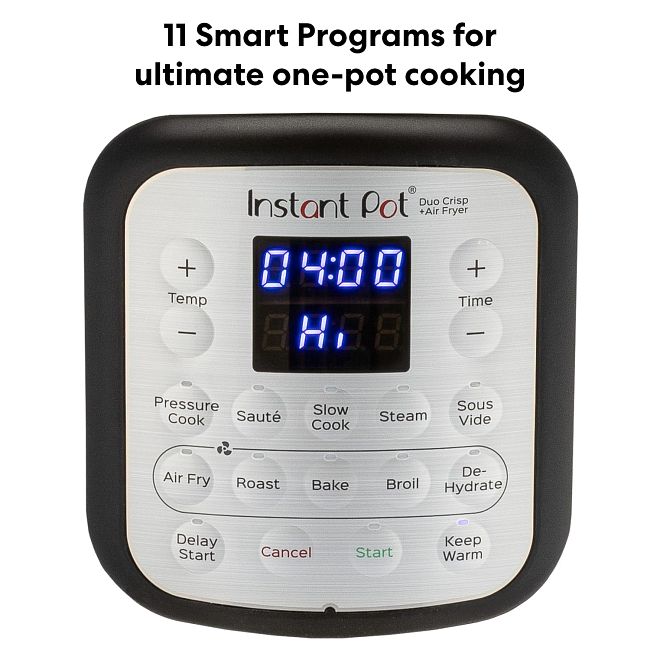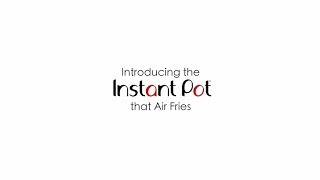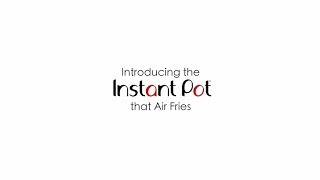 Instant Pot® Duo Crisp™ + Air Fryer 8-quart Multi-Use Pressure Cooker
The Instant Pot® that air fries!
The Instant Pot® Duo Crisp™ + Air Fryer is fast, versatile, and convenient, with 2 innovative, removable lids to help you to cook and crisp your favorite meals all in one pot. All it takes is cook, switch, crisp!
11-in-1 pressure cooker, slow cooker, steamer, sauté pan, food warmer, sous vide, air fryer, roaster, mini oven, broiler, and dehydrator
2 convenient, removable lids to transform your Instant Pot into an air fryer
11 customizable programs for quick one-touch meals
Innovative auto-sealing pressure cooking lid with a button for easy, stress-free venting
Stainless-steel (18/8) inner pot with tri-ply bottom for perfect sautéing
EvenCrisp™ air flow gives you the crunch and tenderness of deep-frying with 95% less oil
Customizable temperature range of 105°F (41°C) to 400°F (201°F) for Air Frying Lid
Cook up to 8 portions, perfect for families, meal prep, and big batch cooking
Bring it to potlucks, parties, events and more
Up to 70% faster and more energy efficient than other cooking methods
Dishwasher-safe pressure cooking lid and inner pot for quick and easy clean-up
10+ proven safety features, including Overheat Protection™ and safe locking lid
Accessories include a multi-functional stainless-steel rack, multi-level air fryer basket with base and broil/dehydrating tray, and a protective pad and storage cover
BPA/PFOA/PTFE-free cooking
1500 watts, 120 V~ 60 Hz, UL & ULC Listed
Dimensions
14.76'' length x 13.58'' wide x 15.28'' height
Weight
22.18 lb | 10.06 kg
*All measurements are approximate.
InstantBrands™ Limited Warranty
This Limited Warranty is effective for one year from the date of original consumer purchase. Proof of original purchase date and, if requested by an authorized representative of Instant Brands Inc. ("Instant Brands"), return of your appliance, is required to obtain service under this Limited Warranty. Provided that this appliance is operated and maintained in accordance with written instructions attached to or furnished with the appliance, Instant Brands will, in its sole and exclusive discretion, either: (i) repair defects in materials or workmanship; or (ii) replace the appliance. In the event that your appliance is replaced, the Limited Warranty on the replacement appliance will expire 12 months from the date of original consumer purchase.
This Limited Warranty extends only to the original purchaser and use of the appliance in the United States of America and Canada. This warranty does not cover units that are used outside of the United States of America and Canada.
Any modification or attempted modification to your appliance may interfere with the safe operation of the appliance and will void this Limited Warranty. This Limited Warranty does not apply in respect of any appliance or any part thereof that has been altered or modified unless such alterations or modifications were expressly authorized by an Instant Brands representative.
Limitation and Exclusions
The liability of Instant Brands, if any, for any allegedly defective appliance or part shall in no circumstances exceed the purchase price of a comparable replacement appliance.
This Limited Warranty does not cover:
Damage resulting from accident, alteration, misuse, abuse, neglect, unreasonable use, use contrary to the operating instructions, normal wear and tear, commercial use, improper assembly, disassembly, failure to provide reasonable and necessary maintenance, fire, flood, acts of God or repair by anyone unless directed by an Instant Brands Representative;
Repairs where your appliance is used for other than normal, personal use or when it is used in a manner that is contrary to published user or operator instructions; or
Use of unauthorized parts and accessories, or repairs to parts and systems resulting from unauthorized repairs or modifications made to this appliance.
The cost of repair or replacement under these excluded circumstances shall be paid by you.
Disclaimer of Implied Warranties
EXCEPT AS EXPRESSLY PROVIDED HEREIN AND TO THE EXTENT PERMITTED BY LAW, INSTANT BRANDS MAKES NO WARRANTIES, CONDITIONS OR REPRESENTATIONS, EXPRESS OR IMPLIED, BY STATUTE, USAGE, CUSTOM OF TRADE OR OTHERWISE WITH RESPECT TO THE APPLIANCES OR PARTS COVERED BY THIS WARRANTY, INCLUDING BUT NOT LIMITED TO, WARRANTIES, CONDITIONS, OR REPRESENTATIONS OF WORKMANSHIP, MERCHANTABILITY, MERCHANTABLE QUALITY, FITNESS FOR A PARTICULAR PURPOSE OR DURABILITY.
Some states or provinces do not allow for the exclusion of implied warranties of merchantability or fitness, so this limitation may not apply to you. In these states and provinces, you have only the implied warranties that are expressly required to be provided in accordance with applicable law.
Limitation of Remedies; Exclusion of Incidental and Consequential Damage
June 19, 2018